Posted: December 16, 2022
Andrew, 15, attends Kibble's Skills Academy, working towards qualifications in Vehicle Systems Maintenance. He has chosen to mentor younger pupils to gain further qualifications and fulfil his career ambition of working full-time with cars.
Through The Skills Academy, Andrew will gain his City and Guilds qualification in Vehicle Systems Maintenance, which is undertaken both in the classroom and in the workplace. He works at the academy within the car garage, under the guidance of Instructor, Ross Fordham as they maintain Kibble's fleet of over 70 vehicles. The practical experience has enabled Andrew to work with cars that are used regularly and as a result, he has developed problem-solving skills as he can see maintenance checks a real car garage would service.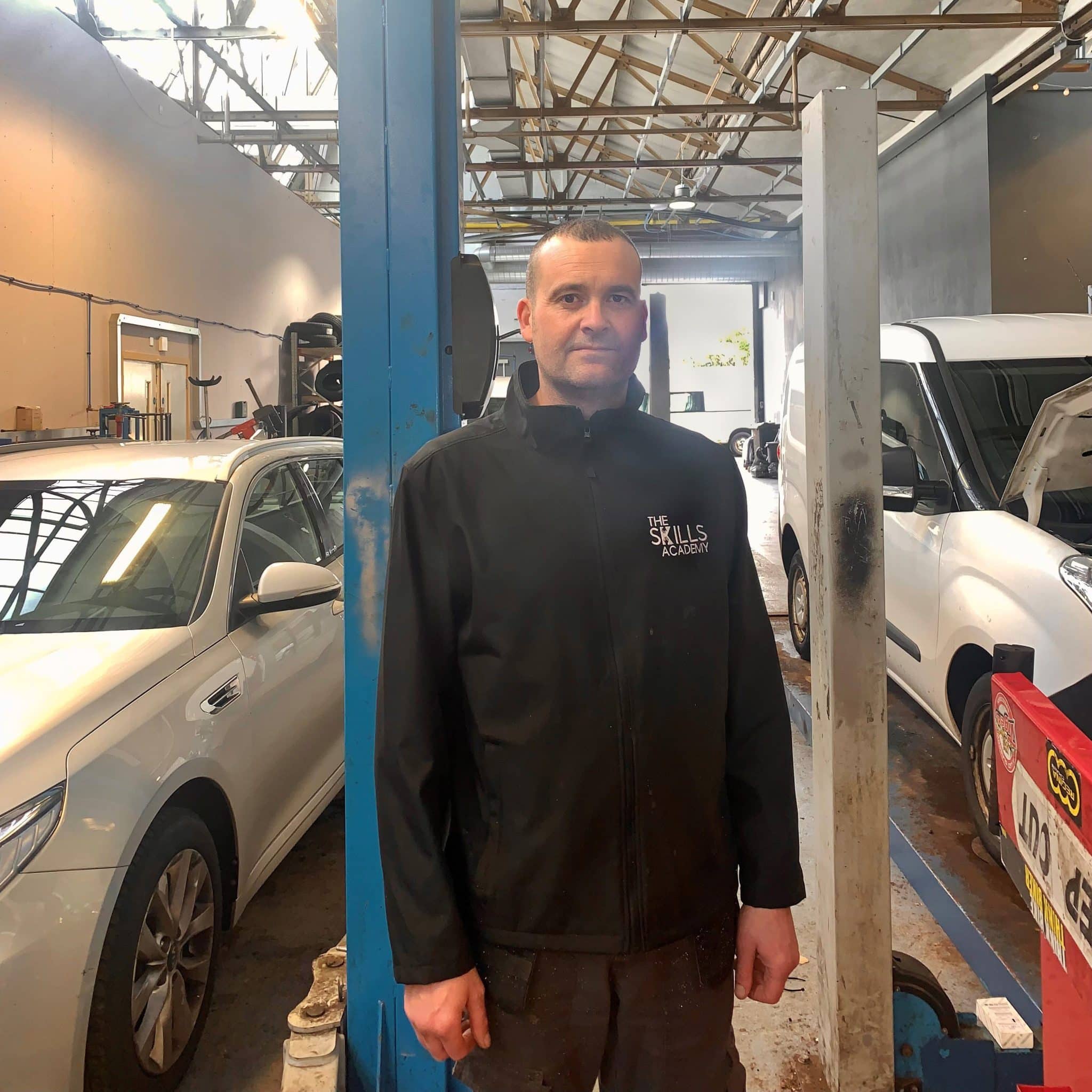 In addition to the Vehicle Systems Maintenance City and Guilds qualifications, Andrew is on-track to gain the Young STEM Leader Award. The accolade is recognition for Andrew taking the time to mentor high school pupils interested in pursuing mechanics and engineering. Andrew spends time with pupils each week, sharing his knowledge and practical skills. By preparing and delivering lessons, Andrew has developed skills in communication, planning and leadership.
Young person Andrew shared, "I remember when I was four years old, I would work on my pedal go-kart with the wrench from my wooden toy bench and now, I spend time working on cars from 9am – 3pm. It is a dream come true. I talk about cars all day and I am always thinking about how the engine works. People my age are beginning to think about what they want to do as a career, but I am lucky enough to have always known that I want to work with cars and engines.
"I am grateful for all I have learnt at The Skills Academy as I spend time on cars that are driven regularly as well as complete practical lessons on a model, non-functional car."

Andrew
Jim Gillespie, CEO, said: "Kibble's overall mission is to give young people a chance at life by opening opportunities and creating positive futures.
"The Skills Academy has a base in Hillington and within St Mirren FC to provide learning opportunities in a real-life setting. Through our own fully operational car garage, Andrew has been able to progress his interest in mechanics into a potential career, helping maintain Kibble's vehicles, completing practical lessons and share his enthusiasm with younger pupils.
"Andrew has set an example and inspired other students to move forward in gaining qualifications in a subject they enjoy."
Andrew is set to expand his knowledge and practical skills while also contributing to keeping Kibble vehicles safe and roadworthy.