Posted: August 25, 2022
Pupils at Kibble's Goudie Academy researched a social issue, selected a charity helping the cause and created a presentation to showcase why their chosen charity deserved to receive a grant.
What is the Youth Philanthropy Initiative (YPI)?
The Youth Philanthropy Initiative (YPI), funded by The Wood Foundation, is a citizenship programme, which empowers students to make a difference in their community through local grant-giving, while developing important skills including teamwork, research and competitiveness.
Our Participation
Kibble's Goudie Academy delivered YPI and in class, pupils learnt about different social issues before being put into groups to select a problem affecting their area, that they wanted to help resolve. The next stage was to research charities working towards their chosen cause before creating a team presentation on why their preferred charity deserved to receive a grant.
Each group met with charities through an online video-call and interviewed the kind-hearted individuals working to make a difference to the community. Young people asked questions and gathered information about the charity, what it takes to keep it running and the impact it has on people living in the local area. They were able to find out specific details about the charity and use the insight to create a thorough, heartfelt and accurate description of all the charity's achievements day-to-day. The presentations effectively highlighted why the charity was important and how a £3K grant would be spent and the significant impact the donation would have on tackling an apparent, key social issue.
The Final
The two charities which made it to our Goudie Academy final were Darkwood Crew and Respect Me. Darkwood Crew is based at the Tannahill Centre in Ferguslie Park with the aim of 'helping Ferguslie flourish' by focusing on food security, fuel poverty, isolation and loneliness, mental health positivity, and the local environment. Respect Me is Scotland's anti-bullying service and has the vision of a respecting, equal and inclusive Scotland, supporting children and young people to live free from bullying.
Our final was attended by members of the charities and representatives from YPI. Young people produced outstanding video presentations for the judging panel to review and decide who deserved the grant.
The final decision was made with Darkwood Crew being awarded £3K and Kibble generously donating £1K to Respect Me. The money was donated in July and upon returning to school, pupils were keen to hear if their donation has helped.
The Impact
Darkwood Crew have shared that the £3K donation has had a great impact so far. The financial support helped them restock their Community Market, which offers food support by providing £15 worth of shopping every Thursday to those who need it.
Darkwood Crew Community Development Worker, Terry McTernan said: "The money received has helped us fully restock our Community Market in an attempt to help navigate the cost-of-living crisis in the coming months. We are expecting an uptake in demand, so this has helped us prepare and is a very welcome addition to our toolbox.
"We are extremely grateful to have been awarded such a large sum of money and would like to take this time to emphasise the benefits this will bring to many across our community."
Alex Reid, YPI Scotland Delivery Lead was thankful to the pupils of Kibble: "Your efforts for YPI have been nothing short of incredible and inspirational this year in very difficult circumstances. Thank you for your unwavering commitment to the programme."
"Our pupils strongly believe no one should go hungry and were determined to do what they could to help make sure families could get themselves good food.

"Young people of Kibble are extremely proud that their efforts have had a direct impact on people looking for help and are keen to continue fundraising for causes that will help the local community."

Audrey Baird, Executive Director of Kibble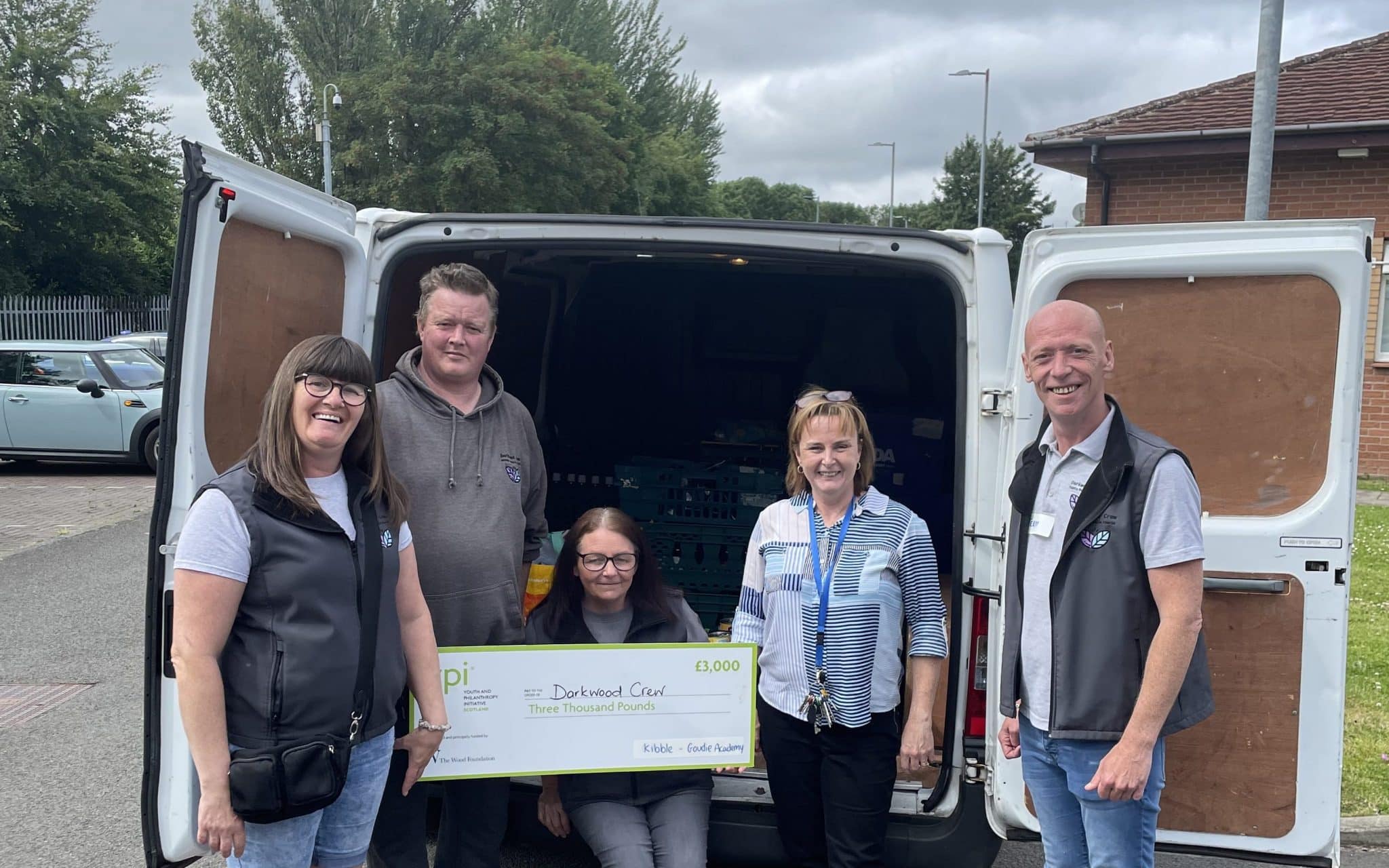 YPI is the flagship initiative of The Wood Foundation's 'Developing Young People in Scotland' portfolio of activities.