Posted: November 7, 2022
Young people who attend Kibble's Skills Academy renovated St Mirren's hospitality entrance under the guidance of a Joiner Instructor and gained their National Progression Award in Construction.
The Skills Academy is our modern education and training centre for young people aged from 14 years-old, which offers young learners the opportunity to gain valuable work experience, full training and qualifications in line with the current job market. The supportive learning environment, varied curriculum and practical lessons, partnered with rewarding work opportunities help young people develop skills that will increase their chances of finding and sustaining employment within a role they enjoy.
The Academy has a base in Hillington Park and within St Mirren's SMiSA Stadium. Through the partnership young people are able to learn and earn from a real, thriving business that caters to around 5,000 avid football supporters at each match.
First impressions count and The Skills Academy students were determined to utilise their skillset to completely revamp the entrance for those fans enjoying the hospitality experience, ensuring they received a first-class service as soon as they entered the building.
Young people received a design brief from an interior designer, which outlined the objective was to declutter and simplify the entrance, making it look inviting, on-brand and professional. Under the mentorship of a qualified Joiner Instructor, the apprentices brought the design to life using the trade skills they'd learned. Young people earned money, gained valuable experience and heightened confidence levels with their efforts helping them to achieve the National Progression Award in Construction.
The Design Brief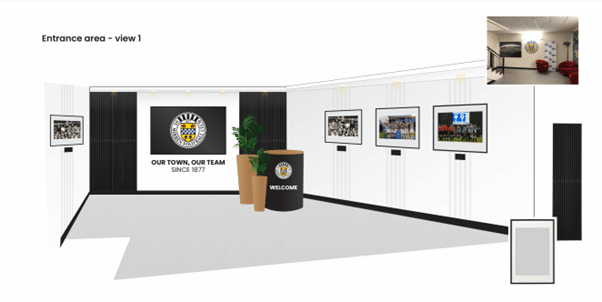 Hear from Kibble and St Mirren
"Kibble's partnership with St Mirren was to provide young people with learning opportunities that will take place in a real-life setting and help them to build a career they enjoy.
"Our young people were determined to impress the club and the football fans with their joinery, painting and decorating skills and I am sure everyone will agree they have done an amazing job, the hospitality entrance has been transformed and looks great. It has been phenomenal to see their confidence levels grow and proudly add the work experience to their CV, strengthening their future career prospects."
Jim Gillespie, Chief Executive Officer, Kibble
"Our new hospitality entrance is looking remarkable and young people from The Skills Academy have been integral in the process, they paid extremely close attention to detail and finished their renovations to the highest standard.
"Young people understood the value of the project and their role in helping us create a grand entrance to offer a tremendous hospitality experience. It gave them the drive to further their skillset and fulfil potential."
Keith Lasley, Chief Operating Officer, St Mirren FC
The refurbishment has only the finishing touches to go before it is complete.
Look at the Before and After Renovation Photos