Posted: November 16, 2023
Investors in People (IIP) is a prestigious accreditation presented to outstanding organisations who empower their workforce and have formally recognised Kibble as an organisation who prioritise their staff team.
Kibble understands the employees who work across all services are our most valuable resource. Therefore, Kibble strives to invest in people, motivating each staff member to drive forward the shared mission of 'transforming lives, families and communities'.
The IIP framework evaluates companies across three key areas: leading, supporting and improving. Through the evaluation, Kibble achieved 'Gold' status with the results (reference 1) illustrating that for several categories, we are operating at the higher Platinum level, a standard met by only 2% of the companies assessed.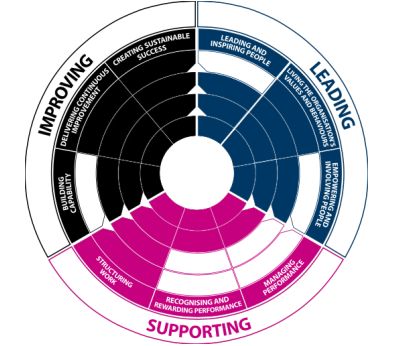 Kibble's results outlined in the IIP Framework
Kibble's ambitious nature of helping young people thrive and opening much-needed new services is brought to life by our staff team who want to develop themselves. It is understood that to get the best from people, we must support their personal and professional goals as the organisation and wider care sector can benefit. Through continued learning and further training, our staff can identify the need for new ways of working and help Kibble continue to evolve. This has led to Kibble investing in career development opportunities for employees as well as implementing initiatives that promote a good work-life balance.
The IIP report credited our people for being the 'backbone of Kibble' and highlighted that our dedication to health and wellbeing and learning and development was shown through the following actions –
Our own trauma-informed model of care includes 'Skilled and Supported Staff' as a key component to our practice. By investing in qualified staff and further training and development, we had the expertise to open new essential services.


Kibble agreed in 2022, in line with previous years, to increase the rate of pay in line with the Convention of Scottish Local Authorities (COSLA) recommendation, which resulted in an above average 5% pay increase.


Increased recruitment ensured young people received consistent love and care from familiar faces while colleagues were supported by a steady and competent workforce.


Strategic plans for succession meant new roles were introduced for experienced Child and Youth Care Workers to continue professional development.


Kibble has achieved sector-leading results from the Care Inspectorate and Education Scotland.


An evolving staff benefits package reflective of employee demands. Each employee has access to a free gym membership, physiotherapy, a health cashback scheme, and other benefits with the services continually enhancing in line with the competitive job market.


Research drives forward improvements across all operations from the opening of new services to upgraded ways of working using new technology.


Partnerships are valued and included within The Skills Academy's student-led social business enterprises, bringing value to the services offered to the community. Additionally, our partnership with St Mirren Football Club is working to strengthen youth employment.
Jim Gillespie, Kibble Chief Executive, shared: "It is with great pride Kibble accepts the 'Gold' status for investing in people and investing in young people.
"We do understand that the difference Kibble makes to the lives of children, young people and families is only possible due to our driven and caring staff team and to be recognised for respecting and prioritising our workforce is an honour.
"We will continue to invest in the individuals who dedicate themselves to developing a rewarding career with us. Our aim has always been to ensure each employee has access to the support and resources needed to change the lives of young people who have faced adversity and give them the best chance at life."
Karen Kerr, Kibble HR Manager, said: "Kibble stays true to its values of respect, ambition and belonging by listening to employees and ensuring their needs are considered within overall business operations.
"The 'Gold' status from Investors in People confirms our commitment to our workforce and the fact there is an opportunity to build a long-term career with us. We will match your ambitions by supporting you complete valuable training and gain further qualifications."
Overall, Kibble is ambitious with the aim of helping more young people through prioritising a skilled and supported workforce and are proud to have received Investors in People and Investors in Young People 'Gold' status.