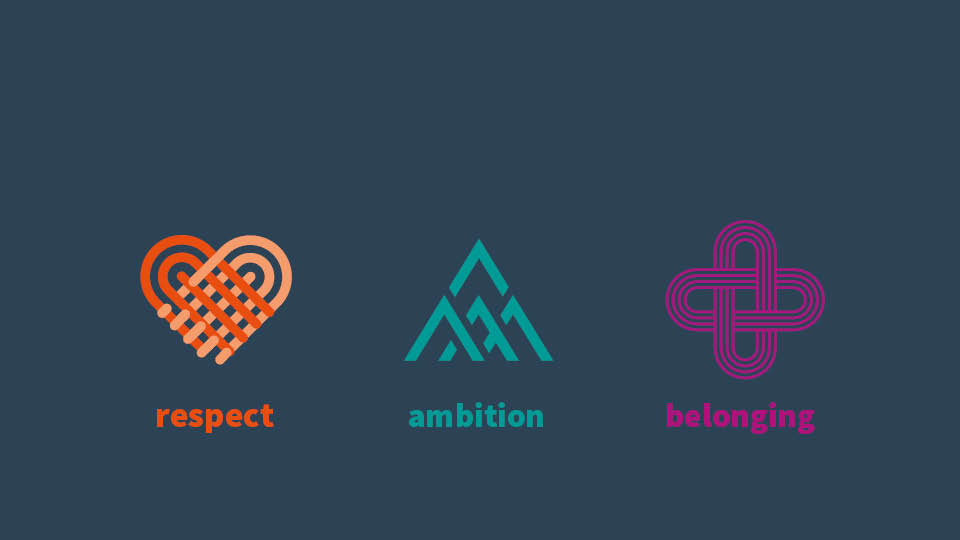 There has never been any question that Kibble has values. As an organisation with over 175 years' experience of caring for young people, our values have always been at the heart of everything we do. We're proud to be one of Scotland's leading child and youth care charities, and as Kibble looks towards the future and introduces new services for young people, what better time to really think about our values and talk about what they mean to us.
So, with input from staff and young people, we're proud to present our values: respect, ambition, and belonging. These values drive our work and define who we are – our principles, our approaches, and our philosophy. By ensuring that these are embedded into the charity's culture and everyday practice, we can make things even better for young people.
Respect
Building relationships on integrity, compassion and trust. Accountable and responsible use of resources.
We respect our young people, we care for them with a non-judgemental approach, and we respect each other. From how we interact with young people and other staff to making important decisions, respect is at the core.
Ambition
Courage to keep improving and innovating. Creating positive opportunities from everyday experiences.
As an organisation, this means finding new ways to provide care and experiences for young people. Day to day, ambition is about giving our young people opportunities to flourish through education and training. It's about encouraging them to explore their interests and inspiring them to achieve their goals. For our staff, it means providing opportunities for development and progression and striving to continually improve.
Belonging
Inspired by our shared purpose, proud to be included. Making a positive difference and creating lasting connections.
At Kibble, we're a family. A family for our young people and a family for staff. We're proud of our low staff turnover rate because it shows that staff feel like they belong at Kibble. And for our young people, we want Kibble to be a place they feel safe, settled and supported. The continuity of care we are able to offer young people means that they can build meaningful and lasting relationships with staff and know that even when they move on, there will always be someone who cares at Kibble.
As we move forward, these values will be placed at the heart of our work. They will shape our plans and guide us as we develop our provision and adapt our practice. We're proud of the value-focused work we do and over the next few months we'll start sharing stories from staff about times that made them proud to work at Kibble.
Back to News & Events