Posted: February 2, 2021
The Kibble Catering Team have provided nutritious meals for young people and staff since our establishment in 1859. The links between a healthy diet and positive mental and physical wellbeing are well known and to this day, our Catering Team prioritise good nutrition.
About Our Catering Team
The Kibble Catering Team provide breakfast, lunch, dinner, supper and snacks to children, young people and staff across several locations, seven days a week. They always have a welcoming smile and are continually listening to the young people to learn their likes, dislikes, dietary and cultural needs in order to inspire the delicious, ever changing menus.
Our Catering Team have received the Healthy Living Award for their food to young people and staff. The award is supported by the NHS and The Scottish Government. It is an achievement the whole Kibble family are extremely proud of.
Local Suppliers
For our Catering Team, a typical day will involve checking supplies and overseeing all orders and deliveries to maintain sufficient stock levels. Kibble has an important role in the Renfrewshire economy and we aim to use our purchasing power to support local suppliers as much as possible. The nearby butcher, W.P. Tulloch has been used by the organisation for decades. Young people and staff always provide positive feedback on the menu items they supply.
Having a strong relationship gives an insight into what items are in season ensuring all ingredients are of the highest quality. With the help of our suppliers, we provide fresh ingredients for menu items on a regular basis. We try to provide as much variation as possible with options available for people with dietary requirements.
Culinary Skills for the Future
The importance of a good diet in helping physical and mental health is paramount. By cooking healthy meals and educating young people about nutrition, it not only helps them engage more effectively with education and work placements, but helps equip them with the skills to move on to live independently after care.
The learning experiences about nutrition begin in our own Market Garden. This provides staff and young people with the opportunity to grow fresh vegetables and fruit throughout the season. By cultivating their own produce, young people gain an understanding of where food originates and the importance of sourcing healthy, nutritious and natural ingredients. As a result, young people will be inspired to make healthy food choices.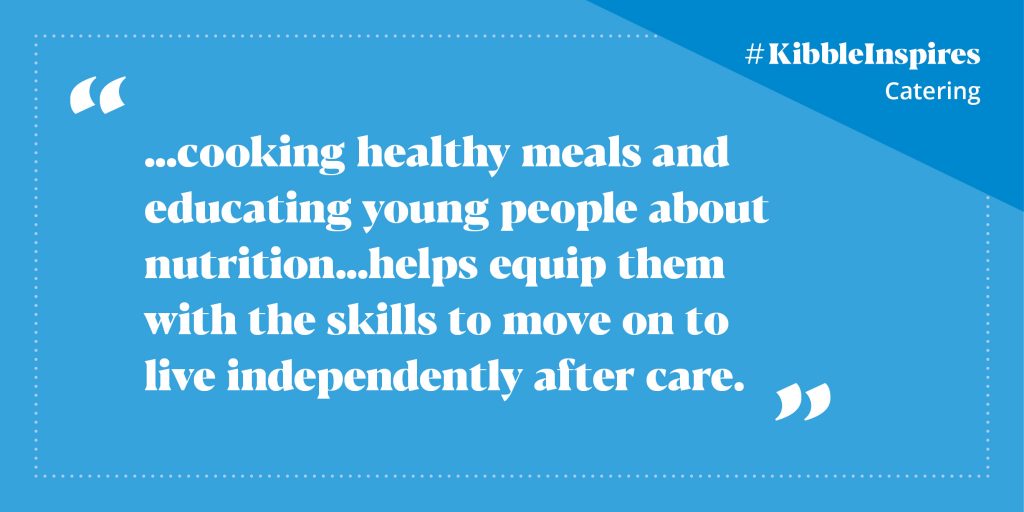 Good Food, Great Company
Mealtimes can be more than enjoying something delicious to eat or trying new flavours, it can be an opportunity for catching up on each others day. We often have themed food nights across Kibble to encourage children to try different foods from Sushi to Mexian and Spanish nights. There is always a buzz around these nights and often we combine these with games, activities, music and dancing.
Prior to the pandemic, the Catering Team were able to actively involve the children in helping to help prepare meals, whilst learning about hygiene and nutrition as part of their academic qualifications. Whilst this is not possible at present, we look forward to being able to once again establish these learning opportunities in future. The friendly staff within the Catering Team have been a core part of our Kibble family since 1859, play an essential role in the care and wellbeing of the children and young people across Kibble.