themes
themes
Page 5
1 | 2 | 3 | 4 | 5
Sport, Recreation and Leisure
Conclusion
Sport continues to play a key role in Kibble's curricular and extra-curricular activities. As well as offering fun activities for our young people, sport also represents an effective means of promoting general health, fitness and wellbeing and developing teamwork and leadership skills, as well as raising awareness of issues such as drugs abuse.
More recent sporting competition and achievements at Kibble include: P.E staff and selected boys taking part in West of Scotland Basketball league (Division 3) 1998/99 on Monday evenings after school; participating in regional competition at St James's playing fields and finals at Scotstoun Leisure Centre in a Glasgow City Councils Football Against Drugs Initiative in 1998; full 15-a-side Rugby games against Cathkin High School and Crookston High School; we were invited in 2001 to join Small Schools Football League against other schools in our own sector; 2002/03 reached the final of the League Cup - defeated 5-4 on penalties after extra time; 2003/04 League Champions (undefeated), League Cup Final Somerset Park (Ayr United's Ground); 2007/08 League and Cup Winners - won Cup 4-2 against St Phillip's at Ochillview Park, home to Stenhousemuir; competed in various inter schools competitions such as cross- country at Falkland school, badminton at Ballikinrain school; Golf Tournament Winners November 8th 2007 at Harthill Golf Club.
Equally, more diverse extra-curricular activities continue to play an important part in Kibble's developmental and rehabilitation programmes. These can include travel opportunities, such as a recent ski trip organized by the Intensive Fostering Service. Our young people are encouraged to organise fundraising events to help fund these activities. In addition, as part of the Social and Vocational Skills education offered at Kibble, boys have organised various fundraising events to support other charitable organisations; for example, a coffee morning in aid of MacMillan Cancer Support. In the last two years, the Kibble Choir has performed carol singing in various locations during the run up to Christmas, providing entertainment and raising funds for Accord and St. Vincent's Hospices.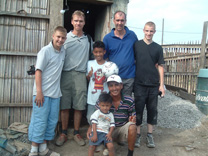 Global Citizenship initiative, Ecuador
Two boys and two members of staff from Kibble also participated in a Global Citizenship initiative
Two boys and two members of staff from Kibble also participated in a Global Citizenship initiative, along with fourteen other pupils from St. Paul's and St. Roch's schools in Glasgow and Plockton High School in Highland Region. This initiative culminated in a working trip to a shanty township in Ecuador, where the people live in abject poverty. Their homes were insect-infested bamboo huts without running water. There is no infrastructure such as a sewage system, no medical provision and educational opportunities are limited. Working in conjunction with local people, the group spent ten days replacing the floors of two bamboo houses, equipping and painting a nursery, and equipping an I.T. suite with computers that they took with them. They also supported the food kitchen. They then spent four days in the Galapagos Islands, where they visited the Darwin Centre and toured two islands, observing the wildlife and looking into the impact of Global Warming.
This project enabled sixteen young people to experience a life-changing opportunity to become ambassadors of Global Citizenship and to become confident responsible citizens and contributors to society. The impact of such experiences is evident in the comments of one of the young people from Kibble who participated in the project:
'I felt guilty about the amount of moaning I do every day in Scotland. I loved being able to help. I loved the people I met and I really enjoyed my experience. I would do it again in a minute as it was life-changing and I had the greatest sense of achievement on my return.'
Currently, one of our young people and a member of staff are planning to participate in a Nepal trek later this year.